Discover more from The Temple of the Body in the World by Michaela Boehm
"The Temple" serves as a meeting place, where Archetypes, Stories and Myth intersect with Relationship and the rich inner and outer layers of Intimacy with and through the Body.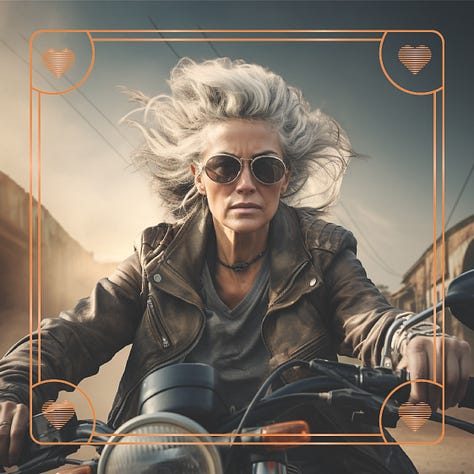 A few Wise Woman Flavors from "55 Flavors of the Feminine Oracle & Practice Deck"
---
A few weeks ago I posted an article about the TV show "The Golden Bachelor" and as a result received quite a few emails about the Wise Woman Archetype I discussed.
The article even made its way to a member of the show's production team, who wrote to affirm that indeed even in the midst of this being a network TV show, he felt there was an element of the Wise Woman expressed by the contestants.
Both in my work and for me personally the questions around entering into another stage of life, regardless of actual biological age, have loomed large recently. We all experience landmark moments in which we realize we have entered a different stage in life. Who we are, who we are perceived to be and what we want to express and create shifts. Sometimes noticeably, sometimes subtly.
Birthdays are signposts of such transitions. So are promotions, births and deaths, new relationships and breakups. And for those of us who have female hormones coursing through our body, the rhythms of our bodies provide clear lines in the sand.
From menarche to menopause we find ourselves in cycles which determine a great deal of our behaviors (and mood!) on a daily basis. When those cycles diminish and eventually stop, the change becomes very apparent. After 30 plus years of tending to our cycles the behaviors and habits are deeply woven into the fabric of our life. Menopause is a massive transformation beyond the obvious physical changes into explorations of purpose, boundaries and mortality.
In every transition it is extremely useful to have guides who have been there before. We need role models who can provide insight into, incite opposition against, and offer "grist for the mill" of our exploration.
But it's complicated. Role models are sparse when it comes to this major transition into and past menopause. These are nuanced personal inquiries, which are often shortchanged by tropes, agism and beauty industry propaganda.
Should we "age gracefully" or engage in every anti-aging procedure we can afford? Should we let it all go and claim being a "crone" or avail ourselves of hormone treatments and various rejuvenation laser procedures. Should we go gray or go blond?
Then there are the emotional aspects. Do we use our lived experience to claim a place for ourselves, or succumb to the trope of "angry menopausal hag"? To whom do we turn when we search for our next phase, our next expression? Who do we become, not by social judgment or demand, but through the arising of our hard earned wisdom?
In my book "The Wild Woman's Way" there is an entire chapter on the Wise Woman that explores these themes. While there may not be many role models in popular culture, there is much wisdom to be found in archetypal explorations.
We can resonate with those archetypes, feel their expression in our bones and let them inform us on a deeper and more personal level. The Wise Woman is such an archetype.
Here are a few excerpts from the "Wise Woman" chapter:
"In a society where female youth and beauty are valued almost above all else, becoming an older woman is difficult, even for the most robust and fulfilled woman.
Even though many women I spoke with have expressed great relief and reported a sense of renewed energy and freedom after menopause, most report that the transition period proved challenging as they adjusted to a marked change in the way they were perceived and treated.
How much women are affected by this transition depends on how strongly they were identified with their looks as a form of validation. Women strongly identified with being sexually desirable and using their attractiveness to navigate life had a much harder time with the inevitable transition.
We are told that what men value in women is youth, fertility, and radiance. The beauty industry is geared toward supplying us with products that aid in radiant skin, glossy hair, and shiny white teeth. Bras and compression garments provide help with the perfect figure, plastic surgery offers a solution for any kind of sagging, and now almost everything can be resurfaced by lasers.
Regardless, at some point the looks will go and what is left depends on how much the women have engaged in their inner lives. The deeply attractive qualities of "a woman of a certain age" are confidence, substance, experience, and an inner radiance that comes from a life well lived and a heart well given.
The deeply attractive qualities of "a woman of a certain age" are confidence, substance, experience, and an inner radiance that comes from a life well lived and a heart well given.
In indigenous cultures, elders are revered for their experience, their insight, and their ability to offer a bigger picture view of life. Often, the matriarch of a family or tribe is consulted and makes decisions on all important matters.
Becoming the Wise Woman is a position that can't be bought, faked, or trained for. The only way to reach it is by staying alive long enough. There are lessons that can only be learned through the insight of hindsight, and a certain surrender and softness that comes from having loved, and lost, and loved again."
Part of claiming the Wise Woman is "having to find things to source from other than beauty, sexual attractiveness, and youth. When those things go, as they inevitably will for all of us who are privileged to live long enough, there have to be other skills and attributes on which to rely, such as humor, gained from the knowledge that some things, as hard as one may try to influence them, will never change; or relaxation, from knowing that not everything needs to be done perfectly and that one's worth is not connected to how much we get done; resourcefulness and flexibility; fortitude, from having our hearts broken and still deciding to love again and again; vibrancy and confidence; sexual maturity, from having relaxed enough to feel our own bodies deeply; generosity, not as a martyr but because, why not!; aliveness and, wisdom, gained from having survived as long as we have.
The Wise Woman is an interesting archetype to consider. When we look at representations of the archetype across different cultures, we see every role, from a leathery old granny to a wildly powerful shamanness. To me, the Wild Woman naturally develops into the Wise Woman.
With experience, all the open, connected, and intuitive parts of us come into full play within the context of passing on wisdom and well earned knowledge.
The Wise Woman's greatest promise is that she is free: free from the considerations that come with having and rearing children, free from societal constructs, and free from self-imposed constraints. She can be a medicine woman, a sorceress, a healer, an artist, or pursue whatever form her freedom might take. She can enjoy spending time and energy on herself and her own pursuits and guide others through places they have not yet been.
With age comes acceptance. With acceptance comes a certain relaxation. Anyone who has engaged in life long enough has encountered the inevitable moment when things, despite all our best efforts, fall apart. We experience breakups, death, illnesses, and failure. We are confronted with the inevitability of everything coming to an end. Regardless of how much we try, things don't always work out.
There are also sudden touches of grace, luck that comes out of no- where, miracles and ecstatic moments that sear themselves into our hearts. There is no way of telling what is what, so eventually we realize that everything is the gift of being fully alive.
At the moment of surrender, a whole new landscape reveals itself, full of possibilities and connections that bring everything into a new, sharp focus, with a heart both tenderized and open, ready to engage with whatever may come." - Excerpts from "The Wild Woman's Way" by Michaela Boehm
P.S: A great Substack Publication providing voices and rolemodels for transition at every age is
.